Meikirch-Modell
Wissenschaftlich fundiert
Publikationen:
Bircher J.
Meikirch model: new definition of health as hypothesis to fundamentally improve healthcare delivery
Integrated Healthcare Journal 2020;2:e000046. doi:10.1136/ihj-2020-000046
https://ihj.bmj.com/content/ihj/2/1/e000046.full.pdf
Bircher J.
Driving Forward A Paradigm Shift in Healthcare: The Meikirch Model
https://scientia.global/wp-content/uploads/Johannes_Bircher/Johannes_Bircher.pdf
Bircher Johannes
Die verlorene Hälfte der Medizin – Das Meikirch-Modell als Vision für ein menschengerechtes Gesundheitswesen
Springer Berlin 2019
Bircher J.
Gesundheit: Das Meikirch-Modell erklärt sie und weist in die Zukunft
SCHWEIZERISCHE ÄRZTEZEITUNG – 2018;99(46):1625–1629    pdf
Bircher J. und Hahn E. G.
The Meikirch Model as a Conceptual Framework for Person Centered Healthcare
European Journal for Person Centered Healthcare 2017 Vol 5 Issue 2.   pdf
Bircher J. und Hahn E. G.
Will the Meikirch Model, a New Framework for Health, Induce a Paradigm Shift in Healthcare?
Cureus 9(3): e1081. DOI 10.7759/cureus.1081     pdf
Samal S, Mohanti D, Born E, Bircher J.
Teaching of health with the Meikirch model to indigenous people improves their health-supporting behavior: A pilot study
Med J DY Patil Univ 2017;10:17-20.     pdf
Comment by Borker S.
Teaching of health with Meikirch model
Med J DY Patil Univ 2017;10:20-1.    pdf
Bircher J. and Hahn E. G.
"Multimorbidity" as the manifestation of network disturbances. From nosology to the Meikirch model
J. Eval. Clin. Pract. 2016; 1–3     pdf
Bircher J. and Hahn E. G.
Applying a complex adaptive system's understanding of health to primary care
F1000Research 2016, 5:1672     pdf
Bircher J. and Hahn E. G.
Understanding the nature of health: New perspectives for medicine and public health. Improved wellbeing at lower costs
F1000Research 2016, 5:167 (doi: 10.12688/f1000research.7849.1)     pdf
Bircher J. and Kuruvilla S.
Defining health by addressing individual, social, and environmental determinants: New opportunities for health care and public health
Journal of Public Health Policy (2014) 35,363-368.     pdf
Bircher J. and Wehkamp K-H.
Health Care Needs Need to Be Focused on Health
Health 2011, 3: 378-382      pdf
Bircher J.
Towards a Dynamic Definition of Health and Disease
Medicine Health Care and Philosophy 2005, 8:335-341     pdf
Bircher J.
Die Medizin des 21. Jahrhunderts braucht eine neue Identität und neue Prioritäten.
Schweizerische Ärztezeitung, 2007; 88:46     pdf
Sturmberg J. P. and Bircher J
Better and fulfilling healthcare at lower costs: The need to manage health systems as complex adaptive systems
F1000 Research 2019, 8:789
Sturmberg J.P., Picard M., Aron D. C. et al.
Health and Disease—Emergent States Resulting from Adaptive Social and Biological Network Interactions
Front Med 2019 6:59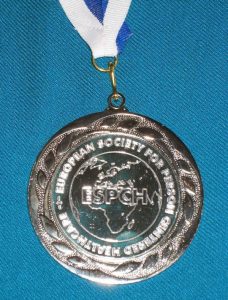 An ihrer 3. Jahresversammlung hat die European Society for Person Centered Healthcare Johannes Bircher mit der Medaille des Vizepräsidenten ausgezeichnet.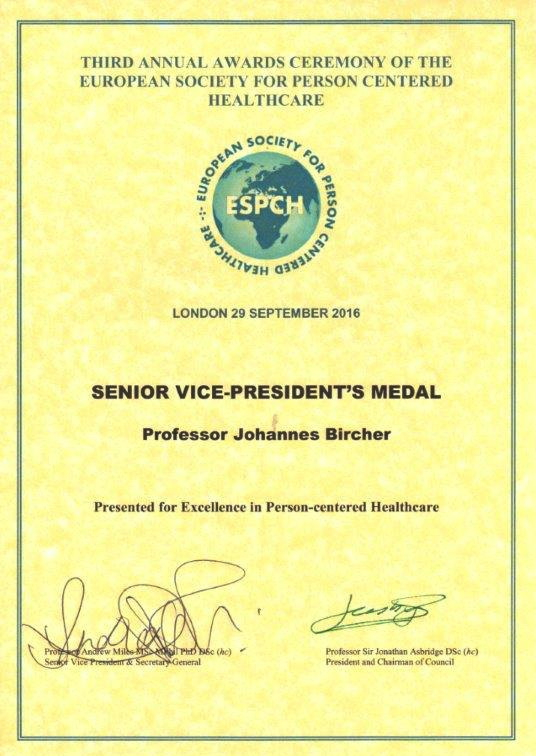 Zeugnis zur Medaille